Fania Borach, known by her stage name "Fanny Brice," was a Jewish-American comedian who gained notoriety on the Vaudeville stage. Brice joined Florenz Ziegfeld's Follies in 1910, which launched her career. Brice was one of the most popular comedians of her time and was known for her characters and physical comedy. In 1968, Barbra Streisand famously played Brice in the film Funny Girl, immortalizing her role as one of the first female comedians in American history.

Brice changed her surname from Borach to Brice in an effort to broaden her appeal by seeming less Jewish. Yet, as she became famous for her comedy on stage, she used her Jewishness in the form of caricature, highlighting stereotypes in order to gain more laughs, since ethnic music and humor were popular at the time. In 1910, she was cast as Josie McFadden in Max Spiegel's "The College Girls," in which she sang "Sadie Salome, Go Home" by Irving Berlin. In this song, she embodied many stereotypical Jewish characteristics, including mimicking a Yiddish accent. While Brice did not speak Yiddish, she was able to adopt the inflection in order to sound more Jewish, as well as accentuating her Jewish attributes in her act, which became a signature of her performances throughout her career. Playing to her ethnic traits was not unlike the way black actors and singers adopted traits of Blackface performance. Yet, perhaps due to her ability to pass as white, her acting style was deemed acceptable by the public in a way that black performers in blackface were not.

While Brice initially changed her name to sound less Jewish, she later made her Jewishness a signature of her performance. Brice was a trailblazing female comedian who adjusted her act to play to the tastes and preferences of audiences in the early 20th century.
Related to Fanny Brice
performer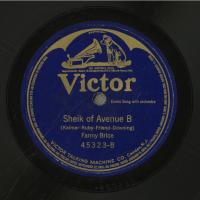 The Sheik of Avenue B
Sound
Relation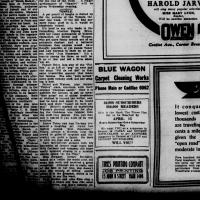 Article describing Fanny Brice's ethnic humor
Image